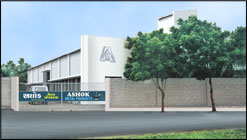 Both the units have been successful not only in the local market but also in National and International markets. The units are successful through the hard work and dedication of team of dedication skilled professionals and the support of its customers all around the world. The unit are producing excellent
M/s ASHOK METAL PRODUCTS was established in the year 1992 with its own factory at Veraval Taluka. Kotda Sangani Dist. Rajkot in the production of Agricaltural Equipments such as HOES & FORK etc. There after with the success of M/s ASHOK METAL PRODUCTS a sister concern ASHOK AGRICO was established in the year 2000 for products of PICKAXE, CUTTER MATTOCK, PICK MATTOCK, AXE SICKLES and GARDEN TOOLS etc.
quality products AGRICULTURE EQUIPMENTS with the use of advancde technology. The products are inspected at every stage of production for the maintenance of best quality of products. Our unit is exporting our products like, HOES, PICKAXE, AXE etc through exporters to countries like, AFRICA, SRILANKA, EUROPE & GULF COUNTRIES. The main aim of the unit is to develope new and innovation, advanced technology for further enhance the quality of the products to meet the varied demands of the customers world wide. The unit wants to achieve satisfaction through quality production. The unit looks forward to enhance relationship with their existing customers as well as attract new business relationship.